Hello once again, and thank you for coming back,
I wanted to talk to you today about, the Dirt Bike Tracks Near Me. We will talk about 4 tracks in particular out here in New England, that might catch your eye. But first lets talk about a day at the track, especially if you are with the buddies. There is so much going on that I never get bored at tracks. From the 50s to the 450, the bikes are everywhere. Gas and 2 stroke in the air, the smell of the grills cooking. Nothing makes me feel young again like being at the track, smiling ear to ear. Just getting away from reality, even if only for the day. This is what we all need in life. Otherwise, why work so hard,
Well what are you waiting for go get your( proper protective gear) on, get into your vehicle. Time to get to A track.
The wick, formerly known as Moto – X 338, right down the street from the present location. Had its first race back in 1972. Wow, that was a year before I was born. They have been around for a while, and been able to change with the sport. In 1976 this track was given the nod to become part of the pro circuit racing session. This must be a great achievement for you as a track owner. As roomers had it, this was one of the hardest tracks that the professionals would have to ride, said a couple of the visiting riders.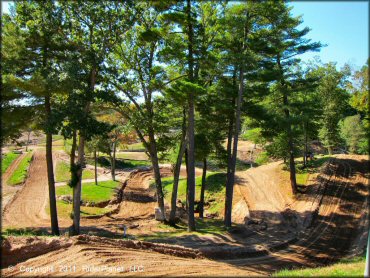 This track has become historic over the years, that it has been open. If you have ever wondered how the numbers 338 got into the mix, 338 was the local American Legion Post, and out behind this post is where the track was carved into the land. Some of the members of this legion hall, had sons that raced on this track as well. These men put in long, hard hours to build this historic, world-known track. The Mcnamara family who owned and worked this track, have done tremendous work for charities over the years as well. This track would bring huge crowds, that would come to see their local racing heroes go against those factory warriors. The track had a few hardships, but has come back with a vengeance for its 2018 relaunch, with the AMA Pro Racing, and has been sanctioned by Lucas oil pro motocross championships the 7th round in the chase to stardom.
Things to expect when you go to this track,
Grandstand seating for the family
VIP seating and viewing areas
infield track viewing
almost 100% track viewing from most seats and areas
handicap viewing areas
food and drink concessions
parking for almost every occasion
easy in/easy out
Before you take the trip to this awesome historic track, just hit the website for a few reminders that they might have for you.
http://thewick338.com/national.html
I highly recommend going to this track, or at the very least to catch one of the AMA races. You will not regret going.
Winchester Speedpark is a family orientated facility. They provide a safe, clean, and friendly environment for everyone in the community, as well as the riders coming to hit the track. For your racing experience, they have 2 tracks onsite. The speed park is unique in that it has onsite its very own retail store / service shop, and to hit the shop just go to, 512 Keene rd, Winchester, N. H, and their it is right out front, the motosports store, right before you go down to the track. So go in and check out all that they have to offer.
The super cross track is @ 517 Keene rd, in Winchester, N. H, Robby Marshall and his Ramtrax Design Co designed and carved the super cross track for 2018. They have a playground for the kids, concessions, and bathrooms available. Also, they have some serious lights set up for when they do their Under the lights races. If you would like to know more about this family track please check out their website for hours, days open, and how much it will cost.
To know more about this track just go to their website @
http://www.winchesterspeedpark.com/
This is a great place to take the family, friends or just to ride.
Before you go, just take a minute and check out the website, to make sure of what they have going on that day
Well its been a couple years since I have been to crow hill, but from what I can remember, this was a great place to ride. I remember that the track had some good flow to it. The track itself is set in Baldwinville, mass, at 600 King Philip trail. This is owned and operated by retired pro rider, by the name of Robby Marshall, He and his family run the crow hill track. If you go to this track, you will find that their are 2 tracks onsite one for the kids, and the main track, that is for all types of skilled levels of riding.
 It seems like the people going to crow hill have a great time, and love the track and the family , and  also how they maintain the tracks. From my experience at crow hill I would have to agree with all the rest, that this is a great place to go. The kids track it basically a mini motocross, so their are lots of Fun for them as well as some good skills to learn here. also they have practice laps, which I thought is a good idea.So if you are in the Baldwinville, mass area, get out their and check this place out my friends.
Well I have to be honest I have not been to HEMONDS but, mark my words after reading, listening, and watching countless hours on this park, and talking to some folks that have been. Well it is basically an Amusement park for dirt biker riders. I have to go to this theme park of sorts. The theme if you Have not heard is fun with the dirt. So let me see if I can help, make this trip to Maine get on your dirt bike bucket list.
Let us start of with the
16 years running, and still counting
2 full size customer, motocross tracks.
10 miles of off-road trails to rip thru
600 acres of beautiful country land
it has an abundance of parking, with 100+ acres just for freaking parking people
plus over 400 feet of elevation change
They also offer lessons on how to ride
Become a member, or part of the family
HEMOND'S
has pulled out some amazing events, that way you can make a whole weekend if you just can't bring yourself to leave. Events like the off-road bash, which reading about this event looks to be a fun time. This event even has a Barbie jeep races, and I don't know if you have ever watched one of these races, but laughed my ass of watching the video. HAMONDS also has some good bands they have playing at their venues.
In conclusion,
So you and whoever you can get together, grab your proper protective gear, and your bikes. It's time for a road trip to HMXP HEMONDS MX & OFF ROAD PARK.
If you would like to know more about this awesome place to have fun go to,
Capeway Rovers MC
Capeway Rovers, Middleboro, Ma
Milford Riders Motorcycles Club
Milford, Connecticut
founded in 1950
Open Monday-Saturday 10am-9pm open Sunday 12pm-5pm
Events held for different classes. Peewee classes also ride here.
Parking available
More info at: http://milfordridersclub.com
Central Cycle Club:
Races for all sizes and experience levels
Private club (members allowed to bring friends)
45 South Cady Lane
PO Box 396
Central Village, CT 06332
More info available at: http://cccmx.com
more 2 come….
In Conclusion,
Their are more Dirt Bike Tracks Near Me,  that we will add as we build up our site, If you have any suggestions of other riding tracks, please feel free to help us out. Wherever you live, whatever state, and or country. We want to make a list of accurate information, so that when the new dirt biker riders come up, and want to get out into the dirt, we can help them out. We will have a community of people who want to help others. Pay it forward, for the future of the sport. Like I said these were a few of the dirt bike tracks near me, I personally can tell you about at this point, more to come…
I would just like to reach out to you one more time about the community of dirt bike riders I am trying to pull together to keep the future of the sport alive and well for generations to come. But we can only accomplish this with your help. I look forward to talking with you all.
Thank you for reading and you'r comments
MARK @
Please follow and like us: